Valentine's Day 2012 was a weeklong event from February 8th, 2012, to February 14th, 2012. The event featured a board game which required players to gather special items in order to move from space to space. Several rewards were stationed at various points along the board and it was up to the player to decide which path they would take.
Featured Items
Edit
The following items were featured for sale in the Zoo Shop for the duration of the event:
The following items were featured as event prizes for the duration of the event:

The Heart Collection was introduced during this event.
B

oard GameEdit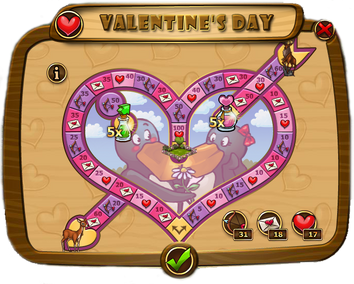 The board game could be reached by clicking the center of the expandable Valentine's event
widget
, which featured a ZooMumba Penguin dressed as Cupid. The board itself featured 32 squares which were in the shape of a heart with an arrow through it. Prizes were featured at several points along the board. Players had to travel along the given squares to reach the prizes they desired. Each square included a cost to travel across it.
The cost of a square was either in bows, hearts, or love letters, and the quantities necessary varied across the board. These items were unique to the event, and could be earned in the same way as collection items, by providing care for animals in the zoo. The Valentine's event widget kept track of the number of each item a player possessed.
If a player did not have the necessary items to move to the next space, they could opt to pay Zoo Dollars to move to that space instead. The amount of Zoo Dollars necessary was 40% of the number value on the square. For example, a square which required 50 bows could be crossed for 20 ZD.
Upon collecting the male and female Elk, the board is reset and players are placed back at the starting position and may circle the board again, earning additional elk and other prizes.
Ad blocker interference detected!
Wikia is a free-to-use site that makes money from advertising. We have a modified experience for viewers using ad blockers

Wikia is not accessible if you've made further modifications. Remove the custom ad blocker rule(s) and the page will load as expected.