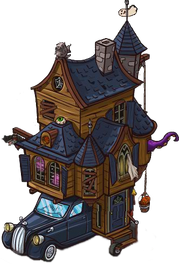 The Halloween Event lasted from October 25th 2011 to November 1st 2011. A ghost caravan was featured in the parking lot during the event, where prizes were offered in exchange for baby
bats
. Players first had to unlock the prizes they desired to trade for by submitting "tricks" or "treats." All prizes could be achieved, but unlocking some of the prizes meant locking others, and all prizes were not accessible simultaneously. Among other prizes, the
Ghost Cat
and the
Crypt Habitat
were introduced with this event.
Tricks, Treats, and the Ghost Caravan
Edit
The "ghost caravan" was an old-fashioned car, possibly a hearse, outfitted with a haunted house, which was parked in the parking lot. Inside the ghost caravan, players were greeted by Lucy, a girl who was willing to trade prizes in exchange for baby bats. Several prizes were laid out in a line, silhoue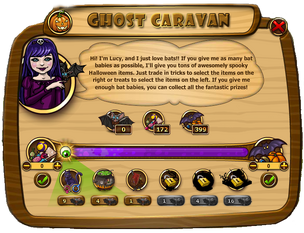 tted and locked. An eyeball was perched above the prizes and began at the center of the line-up. When the eyeball's limited field of vision touched a prize, the prize was illuminated and unlocked for purchase. Players could shift the eyeball along the line to the right by submitting tricks or to the left by submitting treats.
Players acquired tricks and treats by performing normal habitat upkeep activities (feeding, grooming, etc.) and it was also possible to acquire tricks or treats by paying baby bats. While players could shift the eyeball's gaze as they pleased, it was most efficient to shift it all the way in one direction and then all the way in the opposite direction, collecting prizes along the way. This technique minimized doubling back. With this technique, it was possible to obtain all the prizes with 225 tricks and 450 treats, or vice versa, depending on which direction a player decided to move the eye first.
Items & Prizes
Edit
These items were temporarily available via the Zoo Shop during the 2011 Halloween Season:
Halloween Street Pumpkins (3 Types)
Vampire Bat (Male or Female)
These prizes were available via the Ghost Caravan for the duration of the event:

Halloween Collection
Edit
Ad blocker interference detected!
Wikia is a free-to-use site that makes money from advertising. We have a modified experience for viewers using ad blockers

Wikia is not accessible if you've made further modifications. Remove the custom ad blocker rule(s) and the page will load as expected.