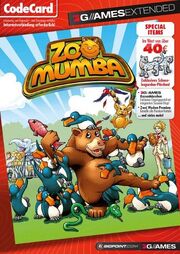 Players can pay € 19.99 (roughly US$ 27) to obtain a special one-use code to extend their ZooMumba experience. Purchasing players will receive several benefits, including the snow leopard, which cannot be acquired by any other means. The game extension is targeted towards German players and is not featured for purchase on any US or English-speaking websites, however, any player willing to navigate the German websites which sell this extension can obtain it - the codes work for any language version of ZooMumba.
The extension provides these benefits:
1x Frill-Necked Lizard
1x Scorpion
1x Male Snow Leopard (Exclusive)
1x Female Snow Leopard (Exclusive
Buildings
Edit
Decorations
Edit
50x Super Feed
50x Power Feed
10x Power Pills
Assistants
Edit
All 6 regular assistants for 3 days
Premium Effects
Main Building Design
Edit
A special Main Building design "with integrated Souvenir Shop"
Changes to the Extended Package
Edit
The extension once offered different benefits, and some have been removed or changed. The Forest Habitat was removed and replaced with. The male and female koalas and panda bear couples were replaced with a single frill-necked lizard and a single giant scorpion. The premium package was given for 4 weeks, but this was changed to 2 weeks. The assistants were once given for 7 days, but this was changed to 3 days.
Cost Analysis
Edit
The extension is advertised as being over € 40 (US$50) in value. Since many of the items and services provided in the extension are available for Zoo Dollars in-game, this claim can be put to the test. The value of the package comes out to 475 Zoo Dollars. Buying Zoo Dollars in the least efficient way, at $2.99 for 50 ZD, this would cost a player $ US. This, or that the estimated value of the extension package has been miscalculated.
Websites Selling the Extension
Edit
Amazon.de Price: 19
Installation Instructions
Edit
Players who have obtained the extension code should follow these instructions to redeem it:
Click here to get to the German ZooMumba page where extension codes are redeemed.
Click the top button, which reads "Account Vorhanden." This translates to "Existing Account."
Enter your username, password, and the bonus code you've received, and click log-in. That's it.
Ad blocker interference detected!
Wikia is a free-to-use site that makes money from advertising. We have a modified experience for viewers using ad blockers

Wikia is not accessible if you've made further modifications. Remove the custom ad blocker rule(s) and the page will load as expected.